The Rise of Golf Carts in Police Work
June 19, 2015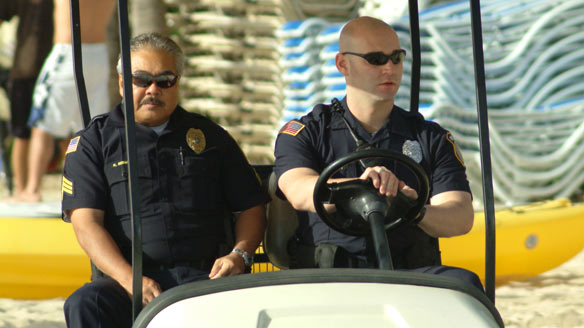 In towns across America, golf carts are becoming more and more prevalent for use in our police force. As our population increases, so does the need for law and order. And instead of cars, many police departments are making the switch to golf carts.
Why would you use golf carts rather than police cars? For one thing, golf carts are quieter and less intimidating than police cars. Many people, even innocent citizens, might feel uneasy at the sight of a patrol car pulling up. As a result, the typical police car can act as a barrier between officers and members of the community.
In response to the police intimidation problem, many departments across the country have tried bike patrols instead. Still, this mode of transportation is less than ideal, as it can cause fatigue and increase risk of injury. In the state of Illinois, the Prospect Heights Police Department has come up with one alternative solution to the problem.

Police Departments Using Golf Carts
In an innovative, multi-unit pilot program, the police department in Prospect Heights is sanctioning battery-operated vehicles similar to golf carts for use in high-crime areas. The vehicle, called the Star EV Diablo 2+2, looks like a larger version of a golf cart but built for greater speed and durability. The EV Diablo can reach speeds of up to 25 miles per hour, runs for 50 hours on a single charge and will be licensed for use on the road.
Carts similar to the EV Diablo have also been deployed by departments such as Miami-Dade City in Florida and Pine Lawns in Missouri. In Miami, police use the carts primarily in their Special Events Unit, and specifically in places that draw big crowds, such as football stadiums. The carts work well in controlled environments where cars don't really fit.
How do you feel about golf carts supplementing the use of police cars? Let us know what you think in the comments below. You can also contact us or send us a message via social media.