Keeping Customers Happy the TreadHeads Specialty Tire Way
March 6, 2015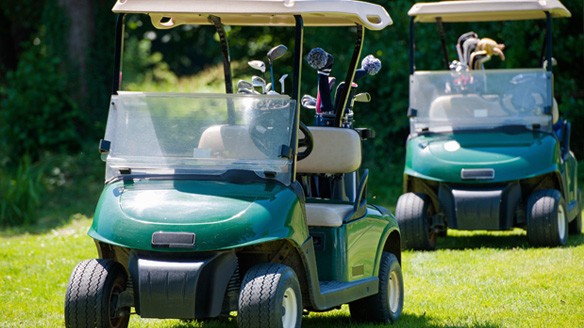 Your happy-go-lucky – and very regular – customer grabs you by the sleeve. He wants to tell you a story.
He was contemplating one day what to do with one very lazy afternoon when the grass was mowed and the honey-do list was strangely and unusually blank. Well, your customer tells you, it came to him in sort of an epiphany: He had been following those golf tutorials you sold him, so he decided he'd just leap onto his reconditioned golf cart with those new golf cart tires and wheels he bought from you and hit the greens. It was a great game (although you suspect he didn't honestly tell you his actual score).
In his exuberance, you sense he might just give you a big hug for the comfortable and rock-steady ride he had on the golf course and for his game, but he shakes your hand instead. (You quietly breathe a sigh of relief.)
He's happy. You're happy. All because both of you were able to experience the feel of quality, reliable golf cart tires and wheels. What you don't tell him (because it's business) is that you just upgraded your stock of golf cart tires with TreadHead Specialty Tire.
It's All About Keeping Customers Happy
We at TreadHead Specialty Tire are dedicated to making your customers happy by providing excellent tires at affordable prices. Because when your customers are happy, you're happy. And when you're happy, we're happy. Which is the reason we've been in business in Florida for the last eight year; we have warehouses in Ocala and Fort Meyers.
But we're not only happy; we're confident. More than 95 percent of our customers – those businesses that serve and cater to golfers and golf-cart users – are repeats. That means a very large majority know and understand that we're dedicated to giving them the best at affordable prices and that we're in business for them.
Our customers are so important to us that we have two trucks to deliver our tough and durable tires (many are nationally owned brands) directly to you.
But it's not just products we deal in – we're not only talking about supplying you with the best golf cart tires and wheels available. We're experts in our industry and have a wealth of information that will enable and equip you to keep your sometimes exuberant customers happy and keeping your doors open for plenty of return business.
Are you looking for a supplier who makes your interests and needs a top priority? Are you looking to offer the best golf cart tires and wheels to your customers? We are available to answer your questions and help guide you through the process. We'd love to hear from you. Call us or use our contact form.