The Rise of Golf Carts in Florida Communities
May 15, 2015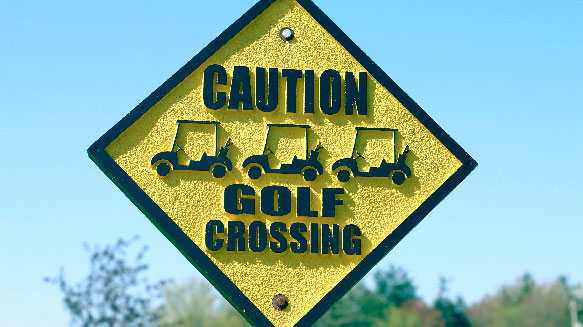 No matter where you go in Florida, you're bound to see some golf carts. For the most part, these carts are limited to Florida's gorgeous golf courses. In some areas of the state, though, the vehicle's reach has expanded to the streets. Golf carts have become a popular method of transportation in many Florida communities, including The Villages, Miami-Dade and Port Richey.
The Villages
Almost everyone in The Villages gets around by using golf carts. All of the businesses even have designated golf cart parking spots. Golf cart tracks line the city streets, and there is even a golf cart overpass crossing a major highway. In his book, Leisureville: Adventures in America's Retirement Utopias, Andrew D. Blechman noted that many of these golf carts "cost upwards of $25,000 and were souped up to look like Hummers, Mercedes sedans and hot rods." In addition, the Villages holds a place in the Guinness Book of World Records for the world's longest golf cart parade with 3,321 carts
Miami-Dade
In a meeting on May 11, 2015, Miami-Dade County officials instructed Mayor Carlos Gimenez to prepare a plan for the use of golf carts on roadways within the county. A shift from cars to golf carts will alleviate some of the area's traffic congestion and increase energy efficiency.
In one of the most prominent municipalities of this area, Key West, golf carts are already widely used. "I have wondered why for a number of years we had not done it here in Miami-Dade County. In Key West, that's all you see," Commissioner Barbara Jordan said. "It's really a saver in terms of traffic congestion because normally someone can jump on a cart to go to the grocery store as opposed to jumping into a car." As the popularity of golf carts continues to rise, Commissioner Jose Diaz urged the commission to do more research on the types of golf carts used and the ages of their drivers to ensure maximum safety.
Port Richey
According to City Manager Tom O'Neill, Port Richey has recently approved the use of golf carts on streets with speed limits under 30 miles per hour. Florida state laws now give cities the option to permit golf carts on municipal roads, so it is up to the city to determine whether its citizens get to drive their golf carts on the streets. However, it should be noted that golf carts still will not be allowed to traverse state or federal highways.
As for whether New Port Richey will follow in its sister city's footsteps, that remains to be seen. In an email on Tuesday, May 12, Mayor Rob Marlowe remarked, "We've got a copy of Port Richey's (ordinance). That's about it."
Whether your city allows you to use golf carts on the streets or not, it's important to choose the right wheels and tires for your vehicle. At TreadHeads Specialty Tire, we have high quality golf cart wheels and tires that work on turf and road at affordable prices. For more information about our products, you can contact us or connect with us on our social channels.
Connect with us: